Mark is a graduate of Oklahoma State University, holds a law degree from Oklahoma City University and a Th.M. and Ph.D., both from Dallas Theological Seminary. Mark has served as our Pastor since October 1991. He is the author of over thirty books on Bible prophecy and related topics. Mark and his wife, Cheryl, have two sons, Justin, married to Natalee and Samuel, married to Ellen. They're also blessed with four grandchildren, Gavin, Cameron, Reed and Tate.
Jay grew up in Owasso, OK. After college he was called into student ministry and since that time has served three churches in a variety of pastoral roles. He first came on staff at Faith Bible Church in 2003. Jay has an undergraduate degree from UCO and a Master's from Columbia Biblical Seminary. He has also been involved in post-graduate study at Dallas Theological Seminary. Jay and his wife Mandi have three kids—Avery, Mia and Jack Dallas.
Seth is a graduate of the University of Oklahoma, and he holds a M. Div. from Southern Baptist Theological Seminary. He is married to Teresa, and they have 2 children – Grace and Owen. Seth has been on staff since October of 2015, and he and Teresa love serving the church body at Faith Bible and equipping the saints for the work of ministry.
Joel Mott is a graduate of the University of Oklahoma and holds a master's degree in music from the Eastman School of Music in Rochester, NY. He has served for over 20 years in full-time ministry at churches in Edmond, Mustang, and Houston. He is married to Lorie and they have four children – Lorin, Hayden, Bryson and Jaxon. Joel came to the FBC staff in August of 2020, and he is excited to join with the entire Faith Bible family to passionately pursue worshipping God in spirit and in truth, to build relationships for God's glory, and to train and equip the saints to do the work of service.
Justin is a graduate of Southern Nazarene University and his wife Rachel is a graduate of Texas A&M University. Justin received his Th.M. from Dallas Theological Seminary in May of 2015. Justin's desire is to be a godly servant-leader who trains and equips next generation disciples of Jesus Christ.
Associate Director of Student Ministry
Addie Zander is a graduate of Oklahoma State University with a degree in English. She taught high school language arts at a Christian school in Enid, Oklahoma before moving to Edmond. Addie is excited for the chance to build discipling relationships with the high school and middle school girls in the Faith Student Ministry and to lead worship for the student services.
Associate Director of Student Ministry
Austin grew up in Edmond Oklahoma and attended Faith Bible for much of his young life. He went to The University of Oklahoma and is currently working on a degree at Dallas Theological Seminary. He married his wife Brecke in May of 2020. Austin cares about helping students take the next step in their relationships with the Lord, and equipping them to help others do the same.
Director of Missions &
Women's Ministry
Tonya joined Faith Bible in 2002 as a college student at UCO studying Mathematics. After college, she taught high school math and coached volleyball at Deer Creek High School for 3 years. She then spent 13 years in full-time ministry including evangelism and discipleship with college students as well as training collegiate ministers, stateside and abroad. Tonya received her MBTS from Dallas Theological Seminary and is active in mission work, including an extended season pioneering a college ministry in SE Asia.
Connie is a graduate of Oklahoma State University with an Education/BS degree in Sociology and Psychology. She has 30 years experience in children ministries in churches in Arkansas, Tulsa, Midwest City, and Edmond. She and her husband, Jerry, have one son, Jacob, and a daughter-in-law, Angela, and two granddaughters, Sophia and Seraphina.
Associate Director of
Children's Ministry
Megan is from Edmond and graduated from the University of Oklahoma with a Bachelor of Arts degree in Journalism. She is married to her high school sweetheart, Kevin, and they have two amazing kids that keep them on their toes. Megan has attended Faith Bible since she was about 10 years old and was even married by Pastor Mark. Megan believes that serving in the children's ministry is a huge responsibility and is excited about helping these little people grow in their love and knowledge of the Lord.
Children's Director
Administrative Assistant
Debra is married to Ed and they have two sons and one grandson, Josiah James. Nathan, who is married to Carolyn, is an OKC firefighter; and Garrett, who is the Assistant Band Director at Crossings Christian School. She has worked alongside Connie Goodson, our Children's Director, since 2006. She considers it a joy to work with a great team in preparing and developing the Children's Ministry so that everything points to Jesus.
Resource Coordinator
Children's Ministry
Katherine is a small town southern girl from Georgia who grew up in a ministry family and fell in love with Jesus at a young age. She met her husband, Andrew while pursuing a degree in Creative Writing. They have four daughters: Taylin, Tara, Aria, and Emma. She's passionate about building relationships that allow her to share Jesus within her community, as well as finding creative ways to share Jesus with the children of Faith Bible.
Keziah started attending Faith Bible Church with her parents in 1994. She met her husband, Austin, while in the youth group and they were married in December of 2020. She has always loved working with children and started working in Faith Kids in 2018. Keziah will complete her degree in Child Development at the University of Central Oklahoma in 2022.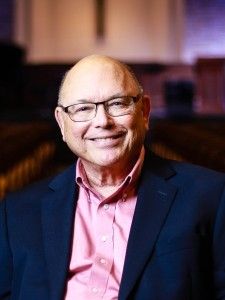 Burge is a graduate of Oklahoma State University and holds the Th.M. and D.Min. degrees from Dallas Theological Seminary. Burge has served the Lord in Local Churches, Bible Colleges and Seminary for over 40 years, joining the FBC staff in December of 2012. He is married to Darlene and they have two children, Tracy and Laurie, and three grandchildren.
Ricardo and his wife Tiffany started attending Faith Bible Church in 1994. They have two daughters, Giselle and Keziah. Ricardo is a 1986 graduate of Oklahoma State University with a degree in Mechanical Engineering. He has also been a youth leader for many years and currently works as the AWANA Commander. Ricardo also has a strong passion for missions.
Donovan Drake has served as the Media Director since January 2016. He oversees I.T. support and maintenance, as well as the technical aspects of all services and events. A native of Houston, Texas, he is a graduate of Lamar State College with dual-degrees in Commercial Music and Business. He has over 20 years' experience in Production and IT administration. Donovan's wife, Samantha, is a native Oklahoman and graduate of OSU. They have one son, Jameson Henry, born October 2017.
Landon Hunter is a Senior at The University of Central Oklahoma and majoring in Audio Production. He is married to Elizabeth who is a student teacher at Chisholm elementary. He has attended Faith Bible Church since 2019.
Jane and her husband Bruce, who have been married 39 years, joined Faith Bible in early 2012 shortly after moving back to the area from Atlanta Georgia. She is the mother of two and grandmother of five, enjoys people and serving at Faith Bible.
Faith Bible Church has been home to Jennifer and her husband, Mark, since 1992. They have four grown children. Jennifer graduated from the University of Central Oklahoma with degrees in Broadcast Journalism and English.
Shonn grew up in the small town of Creston, Washington. She received her Elementary Education degree from Washington State University. Shonn met and married her husband Chad at a church in Spokane, Washington. After moving many times throughout Chad's Air Force career, God brought them to Edmond and Faith Bible Church. They have 3 children, Martha, John, and Kaleb.
Karrie and her husband Wray have been married for 31 years. She is a graduate of Oklahoma State University where she met Wray. Karrie has 3 sons and and a new daughter-in-law. She and Wray have been attending Faith Bible for 7 years and feel blessed to serve here at Faith.